Weight loss does not resolve venous insufficiency, or leaky veins, but treating those veins can relieve leg pain, fatigue, and swelling, which in turn can help patients lose weight.

Robert Bertulli had an ulcer on his right leg that wouldn't heal.
"Varicose veins were eroding and bleeding uncontrollably," confides the Lee County Emergency Medical Services supervisor. "I had severe swelling, pain, and dermatitis [inflammation of the skin]. When the ulcer wouldn't heal, my wound care physician advised me that the varicosities on my leg would require more specialized care and referred me to a vein specialist."
That was in November of 2009. It was one year later when Robert saw that specialist.
"I was hoping that my symptoms would go away on their own," he admits, "and with my work schedule it just didn't happen. But as things got progressively worse, I finally bit the bullet and scheduled an appointment with Dr. Magnant."
Joseph G. Magnant, MD, FACS, is a board-certified vascular surgeon who specializes in vein treatment. His practice, Vein Specialists at Royal Palm Square in Fort Myers, is 100% dedicated to the modern evaluation and treatment of leg vein disorders.
"After reading about Dr. Magnant, it was apparent that his credentials and reputation preceded him," notes Robert. "However, it wasn't until I actually met him that I realized what an incredibly nice guy he is, easy to work with and very straightforward.
"When I first walked into his office, I was struck by its casual, comfortable, relaxing atmosphere. There are photos of the doctor's family and friends everywhere. It doesn't feel like a physician's office; it almost feels like you're in the family room of his house. And his staff is phenomenal. They really are.
"My first exam went very well."
What to expect
"We rely heavily on ultrasound evaluation of our patients' veins," explains Dr. Magnant. "With ultrasound, which may be covered by our patients' health insurance, we can determine the exact source of the problem, even in big, overweight, and obese patients. We can see exactly which veins are leaking, and then design a game plan to solve the problem."
Dr. Magnant had his vascular technologist J.T. perform a full ultrasound on each of Robert's legs. The diagnosis revealed that both of his legs were suffering from venous insufficiency.
"There are many different presentations of venous insufficiency other than just varicose veins," informs Dr. Magnant.
Venous insufficiency is defined as the condition in which the valves of the deep and/or superficial veins of the lower extremities no longer function properly in a one-way manner. These valves are either stuck or scarred in the open position, or are floppy and continue to open, or prolapse, beyond the closed position. This results in reflux, or backward blood flow in the veins, which produces increased hydrostatic pressure in the downstream venous system.
"It is the high pressure that allows fluid to leak out of the veins and accumulate in the muscles, which causes the symptoms as the day progresses," points out Dr. Magnant. "Some patients have swollen feet and ankles, achy legs, leg ulcers, persistent itching over the affected area, extreme urinary frequency, restless legs, or a feeling of tiredness, especially at the end of the day. The problem for patients who are overweight or obese is that they are often told that losing weight will resolve these problems. That is simply not true.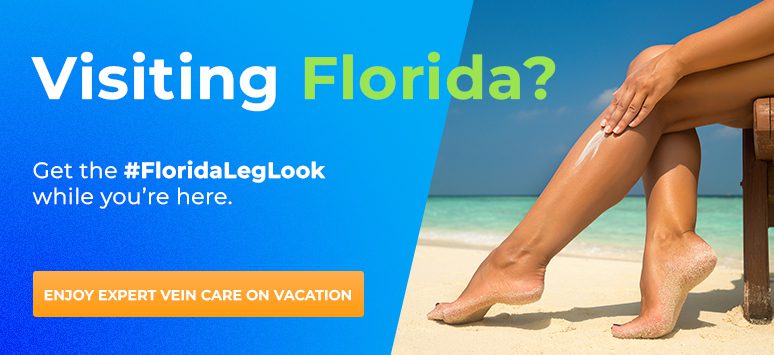 "Venous insufficiency in the superficial veins, which are those close to the surface of the body, is typically caused by heredity. Of course, there are risk factors that exacerbate the problem. Some of these include excessive weight or obesity, inactivity, pregnancy, occupations that require long hours of standing, and older age. But losing weight will not resolve venous insufficiency any more than giving birth or sitting down will fix the problem. A patient who loses fifty or one hundred pounds will relieve some of the pressure, but their veins will still be leaking and they will still suffer with reduced symptoms."
A reasonable answer for patients suffering with any of the symptoms mentioned above is to have a simple evaluation by a board-certified vein specialist, says Dr. Magnant: "Patients with painful, tight, fatigued legs often find that walking even short distances is extremely difficult. Exercising may be intolerable. Therefore, we recommend that symptomatic patients be diagnosed. We want to repair our patients' veins so they can lose the weight."
Until 1999, the only treatment available to offer patients with venous insufficiency was surgical vein excisions, or vein stripping, which often required hospitalization and general anesthesia along with an extended recovery period, reports Dr. Magnant. "The procedure was so invasive that, unless my overweight or obese patients were suffering with ulcers, it wasn't even an option for them."
Today's treatment
Fortunately, today leaky superficial veins can be treated with a minimally invasive, in-office procedure called endovenous closure.
Endovenous closure involves placing a thin catheter into the faulty vein and then delivering heat energy to the vein wall, causing it to seal shut. Walking immediately after the procedure is encouraged. There is no future danger in collapsing the treated vein because it wasn't working properly anyway and other veins have already compensated for the fact that it was not working properly.
"Because of the severity of my venous insufficiency, Dr. Magnant recommended that he perform endovenous closure," recounts Robert. "He performed the procedure on my right leg first, and two weeks later on my left leg. The doctor and his staff went over every aspect of the surgery with me and it went exactly as planned," observes Robert. "I was very impressed.
"My legs are doing one hundred percent better. The ulcers healed on my right leg. Even though in my job I'm on my feet all day, there's no longer any swelling in my legs. There's no bleeding, no ulcerations, and the dermatitis is clearing up.
"It's really a one-hundred-eighty-degree turn from where it was. Dr. Magnant knows exactly what he's doing.
"It's really a great surgical group."
Source: FHCN – Kris Kline
Call Or Request An Appointment
Contact us to schedule an appointment with our expert Vein Specialists team. We will evaluate your signs and symptoms, answer your questions, and create a personalized vein care treatment plan to relieve your leg pain and enhance your life.
Schedule Your Appointment Today
Request an Appointment
Please take a moment and fill out your request below and one of our staff members will be in contact within 24-48 business hours. If this is an emergency, call 911 immediately. If this is a non-emergent concern, please call the office Monday-Friday between 8am – 5pm at: 239-694-8346