Tired of Vein Disease Ruining Your Quality of Life?
Seek Expert Vein Care from a Renowned Vein Disease Specialist
If you're seeking relief from painful or unsightly varicose or spider veins through expert vein treatment from a renowned vein disease specialist in Fort Myers or Bonita Springs, your search is over! Designated as a Center of Excellence in Venous Care, Dr. Magnant and Vein Specialists offers personalized and expert vein care treatment to get you on the road to relief very quickly.

A renowned vein disease specialist and board-certified vascular surgeon with over 30 years of vein care experience, Dr. Joseph Magnant performs the latest, most innovative and highly individualized vein treatments at Vein Specialists in Southwest Florida with offices in Fort Myers and Bonita Springs, Florida.
Explore the Latest Vein Disease Treatment Options
Tremendous advances have been made in the diagnostic testing and treatment of vein disease over the past 20 years. That's why many vein disease patients once thought to have untreatable vein disease can now be treated with safe, highly effective and minimally invasive procedures offered at Vein Specialists.
The risk of leaving vein disease untreated can lead to more serious health conditions. That's why you should schedule an appointment with Vein Specialists today to discuss the best options for your vein treatment. We offer the latest and most innovative vein disease treatments in Southwest Florida, including:
Signs and Symptoms of Vein Disease
Approximately 50 million adults in the United States may suffer from treatable, symptomatic, superficial vein disease. The most commons signs of vein disease are varicose veins and spider veins. Varicose veins are larger, swollen, blue and purple ropey veins easily visible during a physical exam. Spider veins typically appear red, blue, or purple in color and resemble spider webs or fine tree branches. These tiny veins usually become visible on the legs, but also can appear on the face, especially on the nose and cheeks.
Common Signs & Symptoms of vein disease include: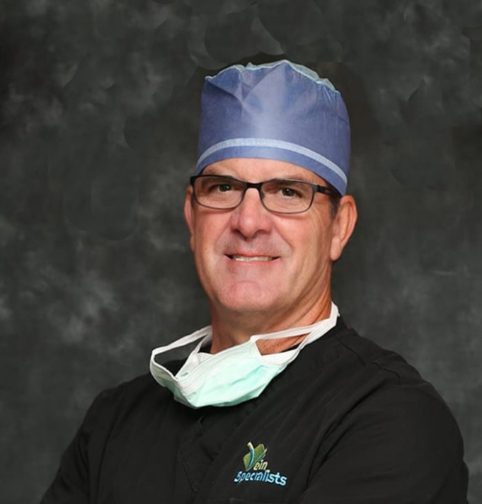 Schedule an Appointment with Florida's Leading Vein Disease Specialist Today!
For the best available vein disease care, schedule an evaluation with expert vein disease specialist Dr. Magnant. He and his dedicated team at Vein Specialists, the original IAC Accredited Vein Center in Southwest Florida, will create a personalized vein treatment plan to deliver the vein treatment results you want along with the highest quality patient care to enhance your quality of life. Contact us today to schedule an appointment.
What Our Patients are Saying
"Best vein doctor ever. I wanted an experienced doctor who specialized in vascular surgery and would work to cure the problem. Dr. Magnant checked all the boxes. I highly recommend Vein Specialists."
"As a retired healthcare professional, I can assure you that Dr. Magnant and his team are the most highly qualified providers in Southwest Florida to diagnose and treat your leg discomfort related to venous disease."
"Everyone at Vein Specialists is very professional and very nice. They want to make you comfortable and feel better. I highly recommend Dr. Magnant and his staff."
"I could not be happier with the professional and welcoming staff at Dr. Magnant's office. I would recommend anyone with leg discomfort to visit Dr. Magnant. He and his office staff were wonderful."
"My legs feel so much better. Better than they have in years. So happy with the results. Doctor and staff are the best. Very efficient and upbeat."
Frequently Asked Questions
How is vein disease treated?

There are many different types of innovative vein disease treatment available depending on your individual situation. Vein disease treatments available from Vein Specialists include Compression Therapy, Endovenous Ablation, VenaSeal™ Vein Treatment, Microphlebectomy, and Sclerotherapy, Varithena™ Foam Sclerotherapy, Intravascular Ultrasound (IVUS) and Iliac Vein Stenting, Cosmetic Sclerotherapy, and Vein Gogh Spider Vein Treatment.

How much does vein disease treatment cost?

The cost of your vein disease treatment varies depending on the type of treatment you receive, and the extent of treatment needed. Contact Vein Specialists for more information about vein disease treatment cost and your insurance coverage.

How do I prevent my varicose veins from getting worse in my legs?

Varicose veins tend to worsen over time and can lead to more serious health conditions. Therefore, early diagnosis is key for effective vein disease treatment. The first step to stop your varicose veins from getting worse is to request an evaluation with Dr. Magnant and his team of advanced providers at Vein Specialists.