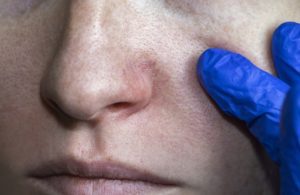 Do You Have Small Red Vein Clusters on Your Face?
If you have broken capillaries, spider veins, or spider vein clusters called telangiectasia, you have treatment options. These tiny veins lie just beneath the surface of your skin, making them very delicate and susceptible to becoming enlarged or spreading. However, new technology allows us to treat and eliminate your unsightly facial and nasal spider veins.
You may have telangiectasia due to the following preventable causes:
An Injury to the Face
Scrubbing Too Hard While Washing
Sun Damage
Smoking
Alcohol Consumption
There are also other less avoidable causes for telangiectasia such as:
Heredity
Thinning Skin Due to Aging
Rosacea
High Blood Pressure
Unfortunately, telangiectasia won't resolve on its own, so preventative measures and facial vein treatments are key.
You Don't Have to Live with Telangiectasia
Thankfully, there are several facial vein treatment options available to treat your broken capillaries which include:
Injection Sclerotherapy
VeinGoah Ohmic Thermolysis System
Laser Therapy
VeinGogh Ohmic Thermolysis System
Why Choose VeinGogh Facial Vein Treatment
We recommend our unique VeinGogh facial vein therapy to treat facial and nasal spider veins because it provides fast, easy treatment with less discomfort than other therapies. VeinGogh facial vein treatment offers immediate and consistent results without affecting the outer layers of the skin. The treatment is completed in two simple steps after the application of a topical anesthetic.
Call Or Request An Appointment
Contact us to schedule an appointment with our expert Vein Specialists team. We will evaluate your signs and symptoms, answer your questions, and create a personalized vein care treatment plan to relieve your leg pain and enhance your life.
Schedule Your Appointment Today
Thermal energy generates a tiny, regulated, high-frequency current to the vessel via a hair-thin probe.
A microburst of energy selectively heats the vein, coagulating the blood and collapsing the vessel wall, allowing your body to absorb it.
VeinGogh not only treats broken facial capillaries, but it also eliminates:
Cherry Angiomas (Raised Red Freckles or Moles)
Small Hemangiomas (Raised Freckles or Moles)
Skin Tags
Spider Nevi (Cluster of Small Veins)
Redness Caused by Rosacea
Facial Vein Treatments for Larger Facial Veins
If you have larger facial veins that need treatment, you may be a better candidate for injection sclerotherapy. During this facial vein treatment, the veins are injected with a solution that coagulates the blood within the veins, causing them to scar and disappear. The vessels then collapse, and your body naturally eliminates the vein.
Tips for Preventing Facial Spider Veins
While facial spider veins may be hereditary or caused by aging skin, it is possible to prevent them by taking care of your skin properly.
Wear Sunscreen Daily
Wash Your Face Gently
Reduce or Eliminate Alcohol Consumption
Avoid Trauma to the Skin
Avoid Anything Putting Constant Pressure on Your Face
Whatever the extent of your telangiectasia, Vein Specialists has the right facial vein treatment option for you.
Request an Appointment
Please take a moment and fill out your request below and one of our staff members will be in contact within 24-48 business hours. If this is an emergency, call 911 immediately. If this is a non-emergent concern, please call the office Monday-Friday between 8am – 5pm at: 239-694-8346