Intravascular Ultrasound
Intravascular Ultrasound (IVUS) is a cutting edge, catheter based, ultrasound technology, which allows for precise identification of iliac vein obstructions as well as guidance for intravascular stent placement. The IVUS catheter is about the size of a tip of an ink pen, the end of which has a tiny ultrasound element which allows imaging of the vein from within.
IVUS enables us to directly examine the pelvic veins (iliac veins) which are responsible for draining the blood from the legs back to the heart. Obstruction of the iliac veins from external compression by the overlying iliac artery and the posteriorly located lumbar spine leads to high pressure in the veins below that point. Signs and symptoms of this increased pressure may include pelvic, buttock or hip pain which are typically worse after prolonged sitting or standing. Pelvic congestion syndrome occurs due to the development of cross pelvic collateral "varicose" veins, which may cause increased pelvic pain with menstruation, during or after intercourse(dyspareunia) or when lifting weight or bearing down as in squatting. Iliac vein compression may also contribute to recurrent venous complaints after previous vein ablation or previous vein stripping or excisions. Unexplained unilateral lower extremity edema, thickened & discolored lower leg skin and non-healing leg ulcers may also be caused by significant compression or obstruction of the iliac veins. Advancements in iliac vein ultrasound testing, as well as the application of ultrasound from within the actual vessel (IVUS), has enabled us to more accurately identify pelvic vein occlusive disease. Prior to IVUS there was not an accurate enough test to document iliac vein compression syndrome (IVCS) or post thrombotic (blood clot) iliac vein obstruction. Under IVUS direction, we can now identify disease previously not considered or recognized and offer appropriate patients definitive therapy with iliac stent placement which, with IVUS, can be sized accurately and confirmed to be fully expanded.
IVUS Guided Stent Placement
Iliac vein stent placement is most accurately and precisely accomplished with the use of IVUS. Based on the results of the diagnostic IVUS procedure, individualized plans of therapy can be established based on the location and severity of narrowing. IVUS directed stenting of the diseased (compressed or post thrombotic) segments may be performed either at the time of the diagnostic IVUS exam or in a staged fashion at a later date. IVUS is used to measure the severity of the narrowing (by calculating luminal area reduction compared to expected normal areas which yields a specific percentage of narrowing). Upon completion of stent placement and balloon expansion of the stent when needed, IVUS is also used to confirm optimal stent expansion and apposition of the stent to the vessel wall. Once the lumen of the vein is restored to normal (stented) flow through the stented vein may be increased up to 90% depending on the difference between pre and post stent lumen area . This is analogous to a traffic jam on the highway caused by multiple lane closures, which is then relieved immediately once the barriers have been removed 4 lanes of traffic have been restored. Although placing stents in arteries has been performed for 30 years or more, and IVUS has been used in clinical practice in the arteries and veins for the last 10 years, the application of these two technologies, in concert, to evaluate and treat iliac vein compression syndrome and pelvic vein congestion is the most recent and significant advance in the field of phlebology, or vein care. IVUS has changed our approach for treating patients with either first time or recurrent venous insufficiency whose lower extremity venous insufficiency ultrasounds may not match their clinical severity. It is this group of patients who are most likely to benefit from further iliac vein assessment with intravascular ultrasound to determine whether they might be candidates for iliac vein stent placement.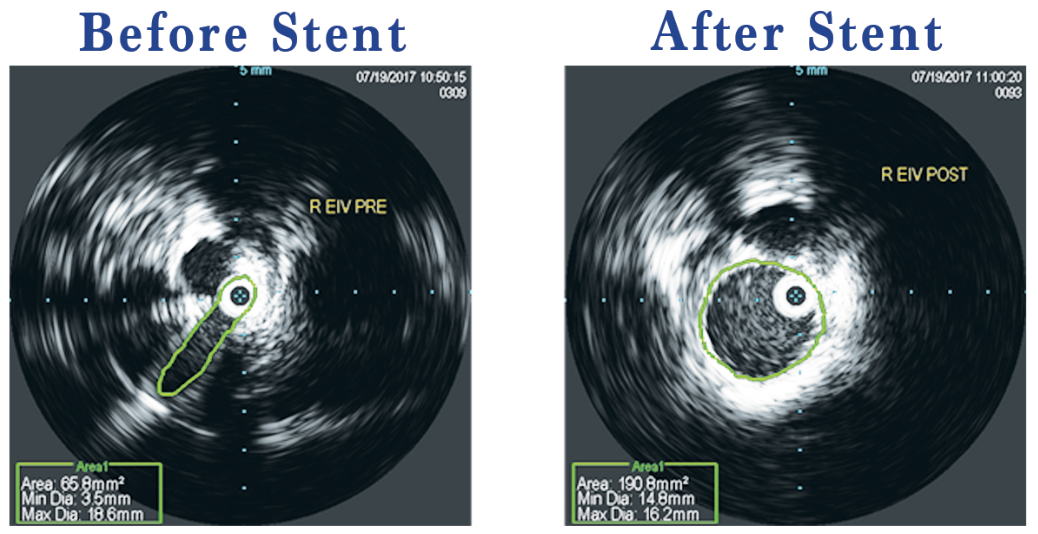 Under IVUS direction, we can now treat disease previously not recognised or appreciated. Stents can be sized accurately and post deployment expansion can be confirmed with IVUS.